B.S.D
Translated to English, French and Spanish

Introducing the 3rd Israel Multilingual Job Fair– Come and meet industry leaders, enjoy our fascinating lectures and insights from a variety of speakers, and take the next step up the corporate ladder.
We also have an all inclusive employment package which will guide you on your career path by getting your LinkedIn profile viewed, career path directory, and upgrading your CV.


"Your life does not get better by chance, it gets better by change"

Come with your CV in hand and a good vibe for mingling.
(Send your CV to Dana@shineconferences.com)
Employment package: Three personal 1 on 1 sessions

LinkedIn

Career Path Direction

Improve Your Resume'
Schedule:
09:00 – 09:15 Opening & Greeting
09:15 – 09:45 "Landscape of the Israeli workplace" by Nurit Agamy
09:45 – 10:15 "The milennial's guide to the Israeli workplace" by Yaron Werber Organizational Psychologist of Israel Electric Company

10:15 – 10:45 "You have reached destination – the ultimate workplace for olim " by Hadas Brajtman Juno
10:45 – 11:15 "How to find your best job" Tips from associations modorated by Stephanie Hodes, Urban Recruits (Maya Shofel, Placement manager – Gvahim, Helen Hartal,Vocational Counselor AACI, Adina Sacks Employment Advisor at Nefesh B' Nefesh )
11:15 – 11:45 "Want protekzia? Be a Freier" by Liron Kopinsky
11:30 – 12:00 "Life after Binary" by Austin Smith ,Wealth Recovery Israel
12:00 – 12:30 Mingling Time

12:30 – 13:00 "Comment aborder le march'e du travail en Israel" by Daniel Heffes, Responsable des projets Emploi à l'association AMI

13:00 – 13:30 L'influence des differences culturelles dans le monde du travail by Reouven est le responsable du Placement en Entreprise, Qualita

13:30 – 14:15 "How to get hired" from key managers. Panel moderated by Jonathan 'Yoni' Frenkel
(Greg Salter – WalkMe, Orel Hashmatia – Taboola, Richard Binstock -Israel Executive, Adi Gonen, GVC Holdings).

Workshop in Spanish
desafíos y oportunidades: apoyo oficial para actividad profesional independiente by Eial Sergio Bluer, Managing Partner ,Sefarad Consulting Ltd.

Workshop in French by Les 10 etapes de l'integration professionnelle en Israel


*Lecture hall capacity is for 400 people max (subject to availability)

Representative from:
Juno, Lawflex, Wealth Recovery International, RCS, BDMCS, Signals Analytics, 24News, Gvahim, Israel Executive, Taboola, Ha'aretz, GVC Holdings, Urban recruits, Jobs 4Olim, Service king, Arrow, DLM Marketing, Rappoport, WalkMe and more
AACI, Telfed, Nefesh b'Nefesh, Gvahim, AMI Association, RootIsrael, Ha-Aretz, Creativitymentoring, Agamy, Israfrance, The Jewish Agency, ארגון יוצאי מרכז אירופה, Qualita , Janglo


Audience:
An audience of English, French, German, Russian, Italian and Spanish speakers and more.

Jobs offered:
Marketing, Sales, Hospitality, Real estate – agents, Admins, Writers, Customer service, Engineers, Lawyers, Accountants,Coders, QA engineers and many more.

In collaboration with:
AACI, Telfed, Nefesh b'Nefesh, Gvahim, AMI Association, RootIsrael, Ha-Aretz, Creativitymentoring, Agamy, Israfrance, The Jewish Agency, ארגון יוצאי מרכז אירופה, Qualita , Janglo
When & Where:
Parking is on Ha'arbaa Street. 'Habima Hahuzat Achof' Parking' – right in front of the Cinematheque.
Cost: 20 NIS. (This is a discount ticket when you get the ticket stamped in the Cinemathque)
For public transportation via Bus via Nearest Train station Tel Aviv Hashalom.

For information and further questions, Please contact us on: Naftali +972 52 514 5515
For payment issues, please call direct: Dana +972 544221180
Thank you!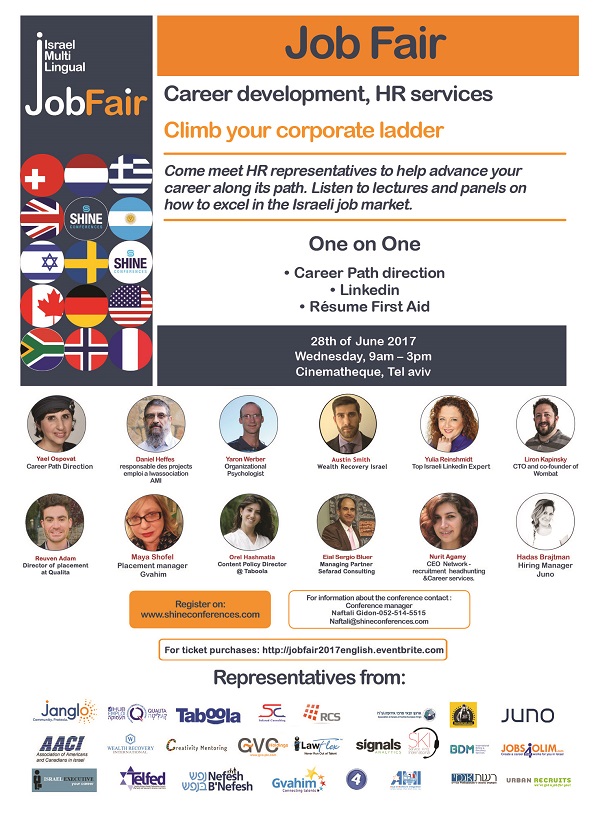 Employment package: Three One on One sessions
LinkedIn

Career Path Direction

Improve Your Resume'
Linkedin Session by Yulia Reinshmidt, CEO, Creativity Mentoring. Top Israeli Linkedin expert for job seekers, executives and corporates.
What will you get?

Review your Linkedin profile to create a professional and fit-to-recruiters-needs profile
Introduction to various LinkedIn features for job searchers
Introduction to networking via LinkedIn
Career Path Direction by Yael Ospovat MA, Prelude, Management and Carrer Consulting/ Social media sourcing.
What will you get?
A personalized session with a career consultant with more than 10 years of experience

How to

maneuver

y

our

career in Israel

Build a precise path in any professional field
Improve Your Resume' by Hellen Hartal, Vocational/Employment Counselor, AACI
What will you get?

Build a personalized resume that will get viewed




How to project your strengths

Make your resume fit your prospective career
Job Board
Global Customer Support Specialist

Junior Product Manager

International lawyers

Sales director

PPC Manager

Web Contenet Manager

Affiliate Manager

Technical Customer Success manager

Client Solution Manager

VP Marketing

Data Analyst

BI Analyst

QA engineer

Online Content Manager

Product Content Writer

VP Sales

English Teachers

CPA

Insurance Billing Agent

Billing Analyst/Administrator – Tel Aviv Office position

Analyst

Developers

Engineers

Sales Representatives

Customer Support agents

Fraud Specialist


American Tax Consulated

more

Présentation de la 3ème Foire d'emploi multilingue d'Israël
Venez rencontrer des représentants des dirigeants de l'industrie
Profitez de nos conférences interessantes et des connaissances de plusieurs orateurs, et passez l'étape suivante vers un poste qui vous correspond.
Nous vous proposerons un service tout inclus qui vous guidera sur votre plan de carrière en actualisant votre profil de LinkedIn et en améliorant votre CV.
"Votre vie ne s'améliore pas par hasard, elle devient meilleure par le changement"
Venez avec votre CV en main et une bonne humeur pour contribuer à la bonne ambiance.
Forfait emploi : trois séances personnelles en tête à tête :
1. LinkedIn
2. cheminement de carrière
3. Améliorez votre CV
Programme des interventions :
09:00-09:15 ouverture et salutations
09:15-09:45 "environement du milieu de travail israélien" par Nurit Agamy
09:45-10:15 "se positionner sur la carte de l'emploi israélienne" par Yaron Werber psychologue organisationnel de la compagnie d'électricité d'Israël.

10:15-10:45 «vous avez atteint votre destination-la construction d'une communauté sur le lieu de travail» par Hadas Brajtman Juno.
10:45-11:15 "conseils d'embauche" conseils d'associations (Gvahim, AACI-Helen Hartal, Nefesh B'Nefesh-Adina sacs, AMI).
11:15-11:45 «voulez-vous protekzia?» Soyez un Freier "par Liron Kopinsky.
11:30-12:00 "la vie après binaire" par Austin Smith, la récupération de richesse en Israël.
12:00-12:30 Temps de partage.
12:30-13:00 "comment aborder le marché du travail en Israël" par Daniel Heffes, responsable des projets d'emploi à l'Association AMI (Alya et Meilleure Intégration)
13:00-13:30 "Comment écrire le CV ultime"
13:30-14:00 "conseils d'embauche" des responsables RH panneaux animés par Jonathan 'Yoni' Frenkel
(Orel, Taboola, Greg Salter WalkMe, Richard Binstock, exécutif israélien).
* La Capacité de salle de conférence est pour 400 personnes max (soumis à la disponibilité)
Reouven est le responsable du Placement en Entreprise, Qualita
Public :
Un auditoire de locuteurs anglais, français, allemand, russe, italien et espagnol.
Offres d'emploi :
Marketing, Ventes, Hospitalité, Agents immobilier, Administrateurs, Ecrivains, Service clients, Ingénieurs, Avocats, Comptables, Codeurs, Ingénieurs QA et bien d'autres.
En collaborant avec :
AACI, Telfed, Nefesh B'nefesh, Gvahim, AMI Association, RootIsrael, Ha-Aretz et Creativity Mentoring, Agamy, Israfrance, l'Agence Juive, ארגון יוצאי מרכז אירופה (Organisation des anciens combattants d'Europe centrale)
Quand & où :
Le parking est sur la rue Ha'arbaa. 'Habima Hahuzat Hachof'parking'-juste en face de la Cinémathèque.
Coût : 20 NIS. (Il s'agit d'un billet à tarif réduit lorsque vous obtenez le billet estampillé dans le Cinémathèque)
Pour les transports en commun via le bus via la gare la plus proche Tel Aviv Hashalom.
Pour plus d'informations, veuillez nous contacter: Naftali + 972 52 514 5515
Pour les questions concernant le paiement, s'il vous plaît appelez directement : Dana + 972 544221180
Merci !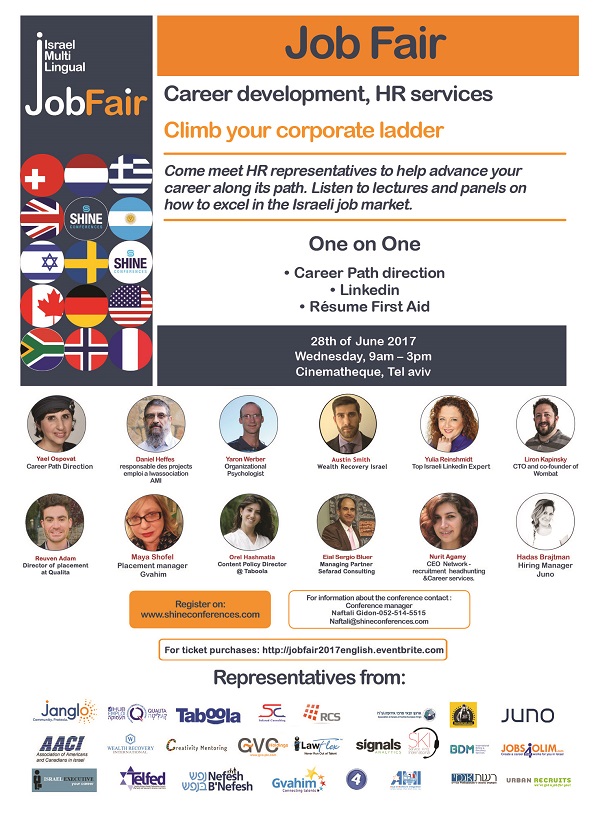 B.S.D
Presentando la 3er Feria de Trabajo Multi-Idioma de Israel
Venga y conozca a los líderes del sector, disfrute de fascinantes conferencias y aproveche los consejos de una variedad de presentadores y suba el próximo escalón en su carrera corporativa.
Disponemos de un comprehensivo paquete de empleo que lo guiará en el sendero de su carrera consiguiendo que su perfil de LinkedIn sea visto, determinando su camino de progreso y mejorando su currículum.
"no obtendrá algo mejor en su vida por casualidad, sino por cambio"
Concurra con su currículum en mano y una buena actitud para conectarse
(envíe su currículum a Ezra@shineconferences.com )
Paquete de Empleo: tres claves personales en reuniones uno-a-uno


1.

LinkedIn

2.

planifique su carrera personal

3.

mejore su "resumen de vida"
Programa:
09:00 – 09:15 Apertura y Saludos de Bienvenida
09:15 – 09:45 "Landscape of the Israeli workplace" por Nurit Agamy
09:45 – 10:15 "The milennial's guide to the Israeli workplace" por Yaron Werber Organizational Psychologist of Israel Electric Company
10:15 – 10:45 "You have reached destination – the ultimate workplace for olim " por Hadas Brajtman Juno
Thank you for participating