Jerusalem Digital Business Summit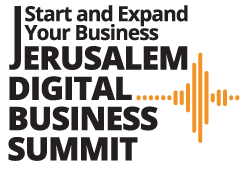 14th of November 2017, 08:30-15:00
Hebrew University -Har Hatzofim, Jerusalem
The summit is translated to English (Main hall & Increase sale Workshop)
As part of the Global Entrepreneurship week, we welcome you to join us and learn how to expand your business with Digital marketing, Social network, Mobile, and eCommerce.
Whether you are a beginner looking to get started, or a veteran business owner looking for new innovations to expand your business, this summit is for you!
The summit will have lectures from industry leaders as well. Companies will have booths to present their products to the attendees.
Target Audience:
Businesses, companies, entrepreneurs, brands, CEO's, VP's, VP marketing, media managers, decision makers, affiliate manager's, website builders, brand managers, marketing managers, business owners, sales managers, store owners, advertising companies, branch managers, and anyone that is interested in marketing his services and merchandise.
Agenda: Translated to English
Moderate by: Noa Tamir, Content and Marketing professional specialized in Digital and TV industries
08:30 – 09:00 Gathering
09:00 – 09:05 Welcome Notes Dana Eliyahu & Yafit Sherer
09:05 – 09:15 Greeting by Mayor of Jerusalem Nir Barkat
09:15 – 09:30 An economic vision for Jerusalem and a different reality for business by Ofer Berkovitz
09:30 – 09:40 Welcome from Dror Atari Jerusalem Chamber of Commerce
09:40 – 10:25 Marketing Panel: How to enlarge your business income with Digital marketing
Moderate by: Idan Ben Or , Blogger and SEO Specialist
Daniel Ziv, Mati digital, Tzion Gidoni Hapoel Jerusalem, Amit Sagi Zap group, Mikes place, Keren Kadosh Kadosh bakery , Ruth Ziv Mor option
10:25 -10:45 ' Connected ' – the material from which the mangers of tomorrow are made of Alon Gal the national Coacher
10:45 – 11:20 Panel: "The advantages of enterprise digital solutions for SMBs"
Moderate by : Shira Levy-Barkan CMO – Microsoft Central Eastern Europe MC-Global at Microsoft
Adv Roee Cohen, Lahav, Moshe Harlopsky, Bizmakesbiz, Sarah Wiesnee, Embassy of Bitcoin, Adv. Nimrod Tauber Tuber, Imi Eiron, Saloona
11:25 – 11:40 Go Mobile or Die Asi Israelof , GeekApps
11:40 -11:50 Is Philip Morris International Snuffing out the Cigarette for Good? How a Science-based Revolution is Transforming the Tobacco Industry Daniel Elfen
11:50 -12:10 Networking
Workshop: Increase Sales -12:10-15:00 (Translated to English)
Moderate by: Ifat Gross Ariav – Senior Consultant Digital Transformation and Customer Experience Expert
12:10 – 12:30 First page on Google in 500 different terms! Sagit Elmaliach
12:30 – 12:50 Payments gateway for eCommerce Tal Miller
12:50 -13:00Instagram Tips Caroline Cooper
13:00 – 13:10 How to boost your lead generation with video? Dana Rozen
13:10 – 13:30 How to use your company database as your assets Bar Haztmon
13:30- 13:50 Networking
13:50 -14:00 New tools for Facebook marketing Shami Ostrovsky
14:00-14:20 How to build a brand and bring customers with content by Anidor Hakak
14:20 -14:40 How to get Brand awareness with digital marketingArie Hakim – Lecturer and lead consultant Mati digital Branding and digital marketing CEO and Owner – F5 Digital Agency
14:40-15:00 How to Get More People to Do What You Want Them To Do On Your Website by Charlie Kalech
15:00 Competition at the Main hall
Workshop: From an Idea to Million 12:00 -15:00
Moderator by: Noa Tamir Content and Marketing professional specialized in Digital and TV industries
12:00 – 12:20 Common e-commerce business mistakes Nir Zigdon
12:20 – 12:40 Amazon! Nice to meet you! Dvir Cohen
12:40 -13:00 The Oltra Ortodox in Israel, Who we are? Yitzik Crombie
13:00 -13:20 CRO: What the future applies us in the internet Ofir Yariv
13:20-13:40 Networking
13:40 -14:00 Alibaba -the tools that will help you sell to the end user Chen Saban
14:00 -14:10 Shopaholic Hobby to Exit Planning Rony Cohen
14:10 -14:20 Paypal Jonathan Neumann
14:20 -14:40 Challenges in business plan for small and medium business Dr. Shai Harel
14:40 -15:00 Websites & App D.I.Y MYWHEN.com Gaya Rozensweig
15:00 Competition at the Main Hall
* Times and content might be changed
For more information:
Dana Eliyahu | Shine Conferences | CEO
Skype: Dana.Eliyahu | Cell: +972 544 22 11 80
The bus from Shafirim (fastlane) and Mevo Modiin is 102 and it brings you directly to the Har Tzofim campus of Hebrew University